Most Recent Release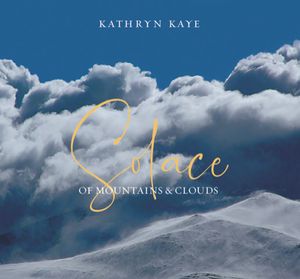 Kathryn is accompanied on Solace of Mountains and Clouds by:
Charlie Bisharat.             Violin
Tom Eaton                       Accordion, bass, electric guitar
Eugene Friesen               Cello
Jill Haley                            English horn
Jeff Haynes                       Percussion
Tony Levin                        Bass
Gus Sebring                     French horn, alpenhorn
Produced by William Ackerman, Kathryn Kaye, and Tom Eaton. Engineered and mastered by Tom Eaton
Solace of Mountains and Clouds is available at the usual online outlets, including CD Baby, iTunes, and amazon. You can also order the album in other ways, depending on whether you would like an autographed copy. The cost is about the same. 
The instructions for an autographed CD are applicable only if you have it delivered to an address in the U.S.  Postage is significantly higher for persons living in other countries, averaging about $14 (USD). If you live outside the States, but would like an autographed copy of the CD, and you have a PayPal account, enter $24 (USD, $10 for the CD and $14 for postage) instead of $14, and otherwise follow the directions below.
For a copy of the album without an autograph, you can go to CD Baby by clicking here,      

OR...

You can order an autographed copy directly from Kathryn through PayPal in five simple steps:   

Go to PayPal by clicking here, and log in to your account;
Click on "

Send & Request

;"
Click on "

Pay for Goods or Services

;"
Enter Kathryn's PayPal account, which is:  

kathrynkaye.finalnotes@protonmail.com

, then click "Next;"
On the PayPal payment page, enter $14, which includes shipping and handling by First Class U.S. Mail, and below this, where it says "Add a Note," enter your name and mailing address.
Kathryn will sign your CD, and the CD Fairy will see that it is delivered to you.
Bill Binkelman had this to say about Reflected in a Flowing Stream, one of Kathryn's earlier albums:
"Kathryn Kaye is a musical treasure and she is one of my favorite pianists recording today. Her music invites both close, intent listening as well as serving as a wonderful backdrop fo day-dreaming, relaxing late at night, or taking an inward journey to memory and reflection."
Recent reviews of Kathryn's new CD:
Keith Hannaleck (New Age Music Reviews)
"It was like visiting an old friend when I gave this new recording my first listen. I received everything I have come to expect from an album created by this exceptional artist, top-notch musicianship, production, and sound. 
"If those three factors are in place consistently on your recordings there is a very good chance you will garner the praise you deserve and all the respect from your peers in the industry. You can tick off all the boxes in that category for Kathryn as well. 
"Solace of Mountains and Clouds is a direct reflection of the surroundings of the artist where she lives and creates all of her compositions. The inspiration of mother nature can be found in many different segments of the artistic communities. I must say after several years of listening to instrumental piano and new age music, that the images and music presented most definitely go hand in hand. The production elements are superb thanks to the Imaginary Road Studios and the fine stable of artists that contribute to this and many other recordings. The partnerships created are absolute bliss, with Kathryn's recording being no exception. 
"A few of my favorites are "Slow Waltz at Summer's End" and "While The Mountain Sleeps."  The track titles are as moving as the music. The images created by the titles and music are all at once prolific, calming, spiritual and rhythmic. There is an innate sense of musicality and tones emanating from those talented fingers that touch the ivory keys. 
"Solace of Mountains and Clouds is the soul of nature mirrored in the music and the colors, atmospheres, and vibrations of this wonderful music. It starts by touching all of your senses then it finds a way to your heart and soul. Any good instrumental music holds that magic but to do it so well and for so long is an incredible achievement and a gift to all that have the pleasure of hearing it."
Keith "MuzikMan" Hannaleck, New Age Music Reviews, June 2, 2019 
Kathy Parsons (MainlyPiano.com)
"Solace of Mountains and Clouds is pianist/composer Kathryn Kaye's eighth album since her 2010 debut, Dreaming Still. Recorded at Will Ackerman's Imaginary Road Studio in Vermont, the album consists of three original piano solos and seven ensemble pieces with Imaginary Road luminaries such as Charlie Bisharat (violin), Jill Haley (oboe and English horn), Tony Levin (bass) and Gus Sebring (French horn). Co-produced by Kaye, Ackerman and Tom Eaton, Eaton also appears on several tracks on accordion, bass and electric guitar. 
"Kathryn Kaye is widely know for her velvety piano touch and graceful playing style as well as for her deep love for nature and the mountains that surround her rural Colorado home. I have been enchanted by all eight of her albums, four of which have won Zone Music Reporter's Album of the Year awards. Her 2018 Songs of Changing Light was nominated for Best Solo Piano Album this year. I would expect no less from Solace of Mountains and Clouds. Kaye describes the album: "Solace of Mountains and Clouds is a musical reflection of my sense of wonder, joy and peace as I watch the mountains and clouds change with the passage of minutes and hours, the weather, and the seasons. I believe that music, much like nature, speaks many languages and is a reminder of the underlying unity of human beings everywhere." 
"The album begins with "Luna's Dream," an ensemble piece for piano, violin, English horn, bass and percussion. I believe the title refers to one of Kaye's dogs, and the piece is a wonderful group of themes that range from almost ambient to more upbeat and jazzy. Anyone who has watched a dog sleep knows that they have very vivid dreams that seem to include running and swimming with the way their legs and bodies move and twitch before settling back to a peaceful slumber. "For Love of Earth and Sky" is more reverent and hymn-like, expressing awe and deep emotion. Very much a piano piece, Bisharat and Levin add their own magic touches to take it soaring even higher. "We'll Be Home Tomorrow" expresses a warm and excited anticipation at returning to the place we love best. "Slow Waltz at Summer's End" is a favorite. A piano solo, it reminds me a bit of Erik Satie's elegant simplicity and bittersweet emotional connection. This one really makes my fingers itch, so I hope it becomes available as sheet music at some point! The title track very effectively expresses the slow, peaceful movement of clouds in the sky contrasted with the majesty of the mountains. Piano, oboe, French horn and bass are hypnotic! "Finally Spring" is a buoyant dance of joy and celebration. "Warm Sun, Gentle Rain" is the second piano solo and is as delicate as its title suggests. The piano is especially well-suited to musical depictions of any kind of rain, and this piece is a lovely example of that. The third piano solo, "Stories Told by Trees," is the closing track on the album. Very free and expressive, it is easy to imagine which trees are telling their stories and what they might be saying. Beautiful!
"Solace of Mountains and Clouds is certain to be on my Favorites List for 2019."
June 12, 2019
Dick Metcalf (Contemporary Fusion Reviews)
"Wondrous joyful peaceful piano Kathryn Kaye – SOLACE OF MOUNTAINS AND CLOUDS:  Readers who frequent these pages & posts will know that Kathryn's excellent piano works are truly wondrous, joyful and peaceful, and certainly among my favorites.  The player list is long and full of talent… Charlie Bisharat (violin), Jill Haley (oboe and English horn), Tony Levin (bass) and Gus Sebring (French horn)… it was co-produced by Kathryn, Will Ackerman and Tom Eaton (Eaton also appears on several tracks on accordion, bass and electric guitar). 
"Though I didn't see any live videos, you will find many of Kathryn's albums by SUBSCRIBING to her YouTube channel… I would suggest (for the next release, maybe) that it would be wonderful to see Kathryn captured on a live performance (hint! hint!). 
"Kathryn's own words very well explain the creativity and strength you will witness on beautiful songs like "Mountains Touching Sky"… she says "Through listening to music and closely observing nature, we can learn to better understand and appreciate life as a whole, in all its exquisite beauty, transience, and fragility."  I believe this song is most worthy of an award – and predict that it will be considered (and WIN)! 
"The integration of the other players is seamless and flawlessly recorded… just listen to the title track, "Solace of Mountains and Clouds", and you'll hear why I say that… what I especially liked about this recording is that the weave is subtle… nuanced… you'll definitely be hearing this song in major rotations on stations around the globe. 
"With songs as sensitive as Kathryn creates, it's sometimes difficult to choose my personal favorite… on this ten-song opus, though, I found it quite easy… the closer, "Stories Told by Trees",  is just full of magical twists and turns that will raise you to new heights of wonderment… in fact, this is my favorite piano song (yet) in 2019! 
"Kathryn and her players get a MOST HIGHLY RECOMMENDED rating, with an "EQ" (energy quotient) score of 4.99.  Get more information on Kathryn's website."    
- Rotcod Zzaj